Día de los Muertos, also known as Day of the Dead, is a tradition that has been practiced for more than 3,000 years in Mexican culture. It's a time where we remember and honor loved ones who have passed. While some may think this holiday is a gloomy one, it is the complete opposite. It's a celebration that takes place over the course of two days and involves many rich cultural elements that will vary depending on the region of Mexico.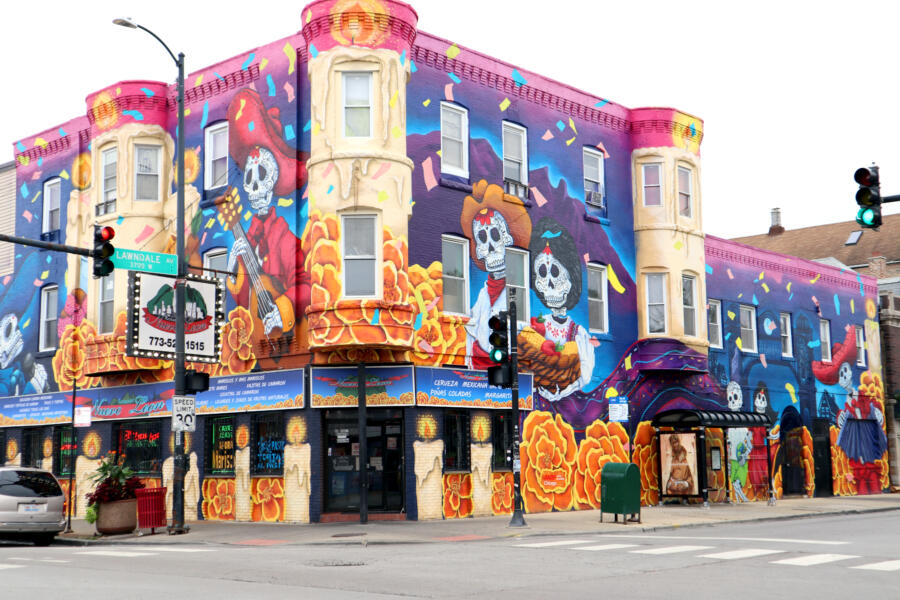 As a first-generation Mexican American born and raised in the city of Chicago, Day of the Dead has always been my favorite holiday. To me it symbolizes unity. It is a time where I connect with my cultural identity – my Mexican roots and traditions – at home with my family through the most significant piece of this holiday, the altar.
Without a doubt, the altar is a staple to Día de los Muertos. Typically built at home or in cemeteries, altars are intended to be an offering to the spirits that visit within the two days. The first day on Nov. 1 honors children who have passed and Nov. 2 commemorates adults. Common items you will find on the altars include, photographs of deceased loved ones, the iconic marigold flowers that are traditionally meant to guide the spirits to the offering with their strong aroma, water to quench the spirits thirst after a long journey from the afterlife, and sweet bread for the spirits to enjoy. Individuals also like to personalize the altar by including their loved one's favorite toys, foods, beverages, and other unique items of significance.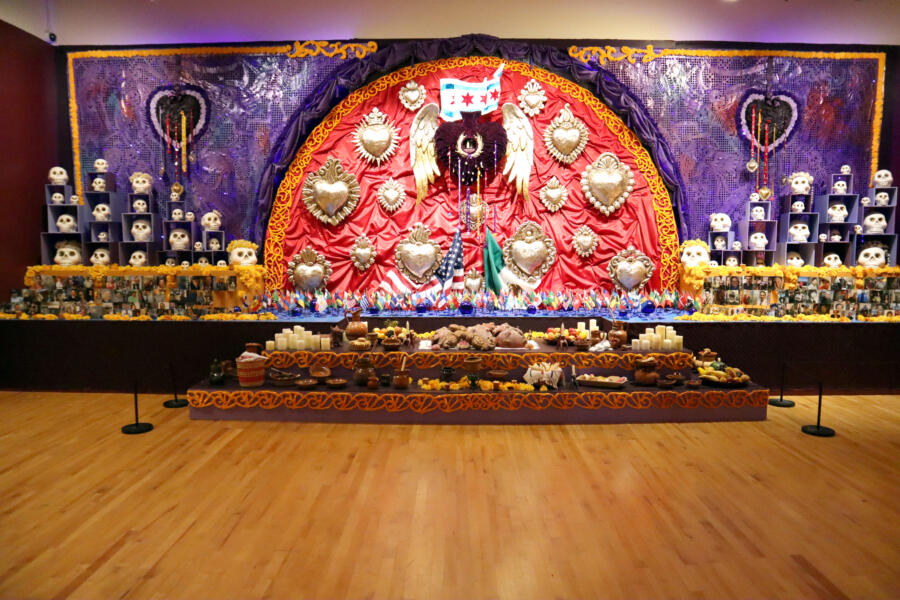 For as long as I can remember, every year my family and I begin preparations for this celebration in the spring by planting several pots of marigolds, or "cempasuchitles" in Spanish, at home. When the holiday arrives, the whole family comes together to cut all the marigold flowers — that have fully blossomed at this point and smell amazing — and begin to create our offering. We listen to music, enjoy food, do arts and crafts, and reminisce about memories with loved ones that we believe are spiritually present celebrating that moment with us. To us, this holiday is a beautiful way to celebrate both life and death.
While it originated in Mexico, today Day of the Dead is celebrated throughout Latin America and beyond. If you are looking to get a glimpse of the holiday in Chicago, explore the Day of the Dead activities, events, and celebrations taking place this year in Chicago's Little Village and Pilsen, two Chicago neighborhoods with large Mexican-American communities.
Day of the Dead in Little Village
Día de Los Muertos Halloween Festival
Oct. 29
This celebration is filled with Halloween and Day of the Dead activities for the whole family! It will include trick or treating, food, community resources and art activities.
Learn more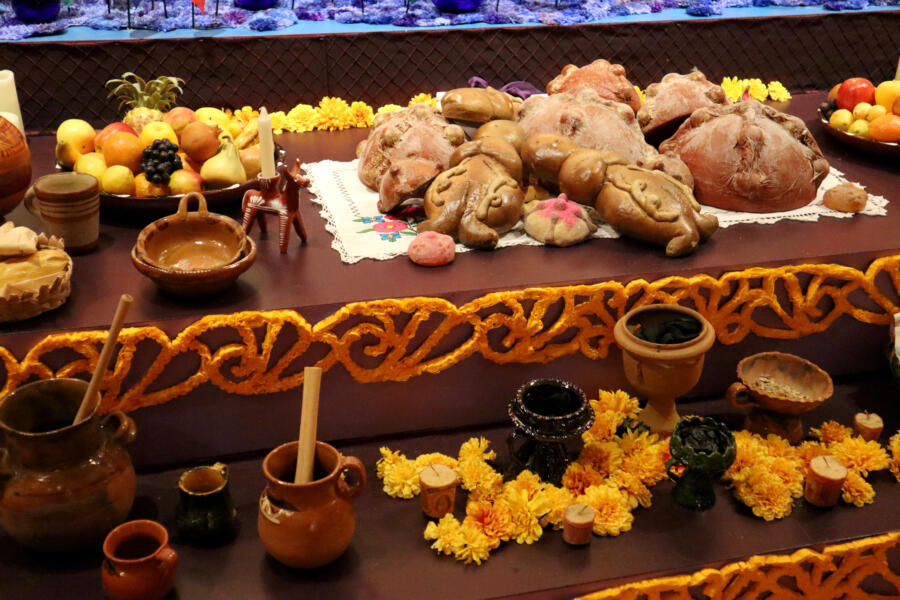 VillArte's Little Village Day of the Dead Altar Walk
Nov. 6 and Nov. 7
VillArte-Chicago La Villita is hosting the 16th Annual Little Village Arts Fest 2021 with its 6th Recorrido de Ofrendas, a celebration of the Day of the Dead tradition. This two-day festival will include workshops, art and altar walk for all ages.
Learn more
Day of the Dead Mural in Little Village
In 2019, Nuevo Leon Restaurant worked alongside graffiti artist Elizabeth "Liz" Reyes to create the largest Day of the Mural in Little Village titled Celebrando Comunidad. As you are participating in the celebrations taking place in the community, I highly recommend stopping by and checking out the bold colors and incredible Day of the Dead details in artwork.
Little Village Arch honoring loved ones
Now through Nov. 15
The iconic Little Village Arch over 26th Street will honor the memory of Little Village residents that have lost their lives this year. Be sure to keep an eye out for other Day of the Dead decor down the 26th Street corridor.
Try Pan de Muertos (Day of the Dead sweet bread)
During this celebration, Pan de Muertos is a must! Whether it is to be placed on an altar or to be enjoyed with a hot chocolate, below are some of my favorite bakeries where you can shop for a variety of Day of the Dead sweetbread.
Day of the Dead in Pilsen
Day of the Dead Exhibit
Now through Dec. 12
Every year the National Museum of Mexican Art celebrates, and honors loved ones through a Day of the Dead exhibit. You can experience the museum filled with a collection of altars and artwork that pays tribute to the numerous individuals from Mexico and the U.S. who we have lost during these past two years.
Learn more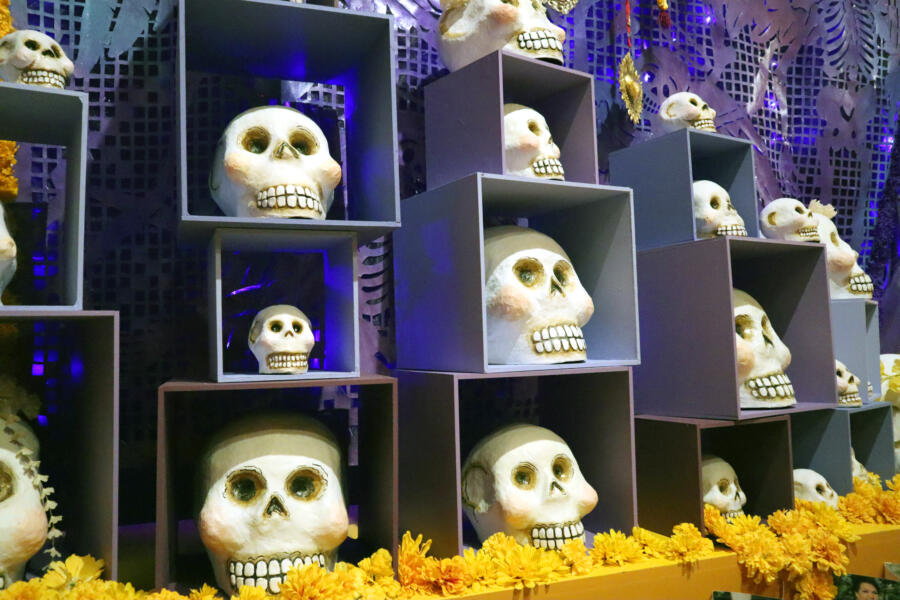 Día de los Muertos: Love Never Dies Ball
Saturday, Nov. 6
The Museum's Auxilary Board cordially invites you to a special celebration that honors life and the spirits of los muertos. Indulge in delicious culinary treats from some of Chicago's best restaurants, sip on delicious adult beverages and dance the night away to live music.
Learn more
Baile de Calaveras
Nov. 4 and Nov. 5
The Young Professionals Advisory Council of Mujeres Latinas en Accion celebrates life and death at Baile de las Calveras 2021 at Mi Tierra Restaurant. Experience a night of music, dancing, drinks, Day of the Day activities and more!
Learn more
Pilsen's 15-Foot Day of the Dead Ofrenda
Pilsen resident Isabel Hernandez created her own ofrenda on 19th Street between Throop and Loomis. The display, which stands over 15 feet tall, honors the passed loved ones from the Pilsen community. With over 250 pictures displayed, this altar is a must see in Pilsen.