June 20 – Aug. 18, 2022
Free admission • Millennium Park
The Millennium Park Summer Music Series features free outdoor concerts, showcasing a broad spectrum of established and emerging musicians in a spectacular setting. Grab a seat or a spot on the lawn and enjoy views of the soaring Pritzker Pavilion overhead and the surrounding city skyline that lights up around you as dusk falls.
Concerts feature artists from across genres, including R&B, house, disco, jazz, pop, country, alternative, and world music. Come see your favorite artists or discover someone new. Don't forget to pack a picnic to enjoy before and during the show.
Millennium Park Summer Music Series 2022
The ten-part music series features a wide variety of music from established and emerging artists at the iconic Jay Pritzker Pavilion.
Monday, June 20
Femi Kuti & The Positive Force

.

Hat
Thursday, June 30
Abigail Washburn 

Samantha Crain
Thursday, July 14
Civl (Chicago Independent Venue League) curated show
Monday, July 18
Dakhabrakha

Chicago Immigrant Orchestra 
Thursday, July 21
Jeff Tweedy

The People's Music School 
Monday, July 25
Hip Hop: A Child Of Blues
Monday, August 1
Ana Tijoux

Gabriel Garzón-Montano 
 Monday, August 8
Grammy Chicago Chapter curated show
Thursday, August 11
Cimafunk

 

Hypnotic Brass Ensemble
Thursday, August 18
Charles Stepney: Out Of The Shadows

Black Monument Ensemble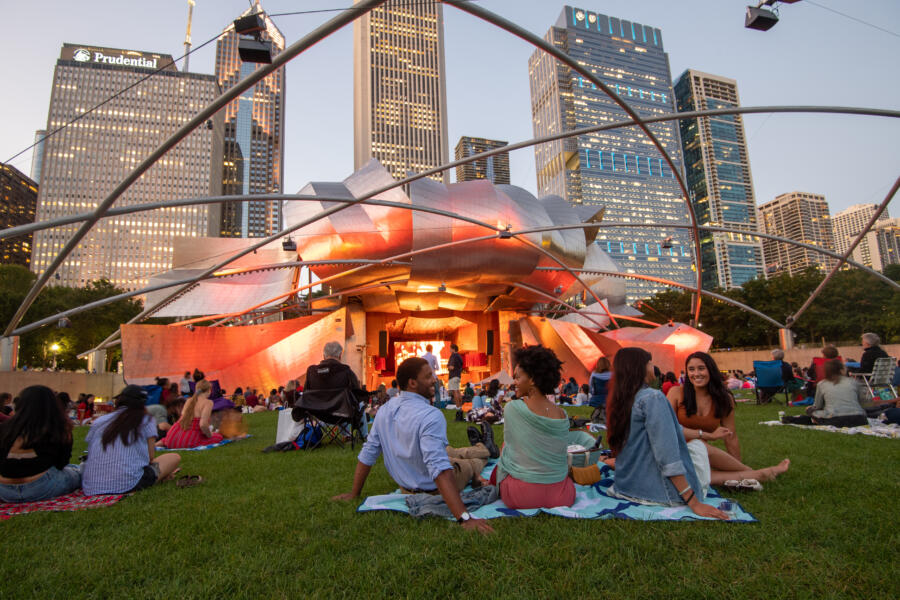 Millennium Park FAQs
What accessibility amenities are available at Millennium Park concerts?
Evert aspect Millennium Park has been designed to be accessible and inclusive to all patrons. That includes:
American Sign Language interpretation is available for all concerts at Jay Pritzker Pavilion
Assistive listening devices and wheelchairs are available at all Millennium Park events from the Patron Service Tent
Accessible seating (with companion seats) is available throughout the Jay Pritzker Pavilion seating bowl
Learn more about accessibility in Millennium Park.
What items are prohibited from being brought onto the grounds?
Barbecue grills (open flames)
Fireworks or explosives
Illegal substances & weapons
Pop-up tents/canopies
Beach/picnic umbrellas
Flag poles
All pets (except service animals)
Can I bring a folding chair and blanket into the Chicago Jazz Festival?
Yes, but folding chairs are not allowed in the seating area of the Jay Pritzker Pavilion.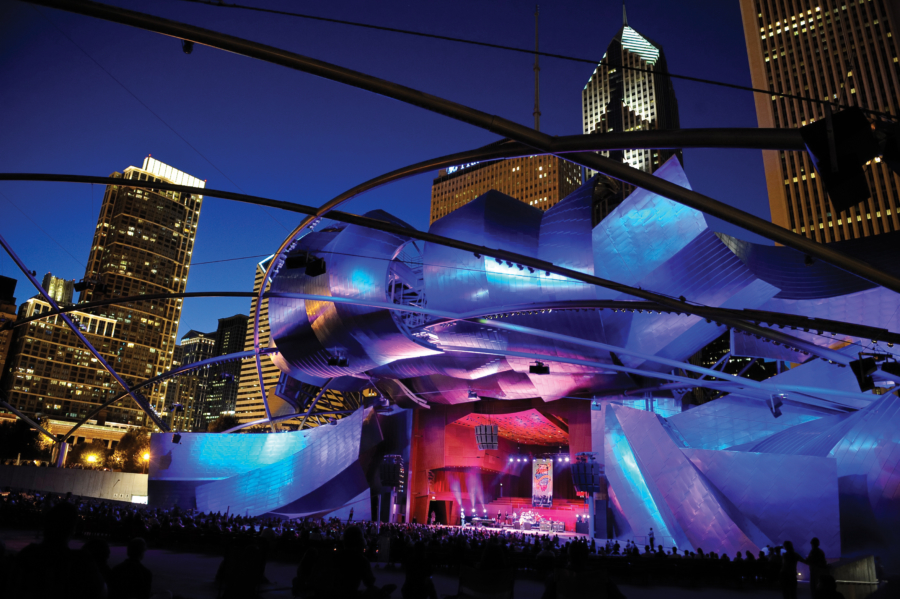 Can I save seats in the Pavilion?
General seating in the Pavilion and on the Great Lawn is available on a first-come, first-served basis. In the seating bowl, you may save only one seat prior to the start of each show. Once the show has started, you must relinquish your seat. Please note that Millennium Park reserves the right to close the seating bowl and Great Lawn due to reaching capacity and appreciates your cooperation in ensuring the safety and enjoyment of your concert-going experience.
May I bring a picnic basket?
Yes! Millennium Park is the perfect place for a picnic and a night of music and dining al fresco. However, in order to ensure that events are enjoyable for all attendees and to protect the lawn from wear and tear, please respect the following rules of the Jay Pritzker Pavilion: tents, oversized umbrellas, oversized blankets or plastic tarps, helium balloons, oversized flags, signs/banners, barbecue grills, open flame candles, or staking of any kind are not allowed on the Great Lawn area.
May I buy beer or wine in the park? How about food?
Refreshments, including food, beer and wine, are available for purchase from the concessions tent located to the east of the Jay Pritzker Pavilion. In addition, concessions can be purchased throughout the Park, including from the concession carts located on the Chase Promenade and at the Park Grill and Café on the McCormick Tribune Plaza. Alcohol may only be consumed in the seating area and the Great Lawn during the concerts. Alcohol sales in the Millennium Park concession tent end one half-hour prior to the end of the concert.
What is the rain policy?
Concerts and performances in the Jay Pritzker Pavilion are held rain or shine, unless there are severe weather warnings and/or the threat of lightning in the area. The Pavilion seats are not protected from the elements. The Great Lawn has a high-tech design with underlying layers of sand and gravel that allows water to drain quickly.
Are recording devices allowed during a concert?
Photography, video, or recording devices are prohibited at all concerts at the Jay Pritzker Pavilion.
May I smoke?
Smoking is prohibited in the seating area of the Jay Pritzker Pavilion, Great Lawn, the Lurie Garden, the east and west arcades by the restrooms, and the east and west Exelon Buildings.
May I bring my dog along?
Animals are not permitted in Millennium Park, unless they are service animals.
Please note: Schedule is subject to change. For the latest on Millennium Park Summer MusicSeriesand all Millennium Park events, visit millenniumpark.org.